2021 Health Leadership Conference
Event Date: Feb. 10 - 11, 2021

Event Location:
The 2021 Health Leadership Conference was held virtually February 10 and 11. More than 174 attendees, representing 66 VHA and nonprofit member organizations, connected and learned from each other and other leaders in organizational success, health policy, leadership, philanthropic trends, and much more. The 2021 Conference was chaired by Nancy Berg, Chief Executive Officer & Executive Director, ISPOR; and Cassandra McCullough, MBA, Chief Executive Officer & Executive Director, Association of Black Cardiologists. Following is a summary of each session.  
 View the full agenda here. 
Day 1
Keynote:
Success: How to Accomplish What Matters Most 
Jon Levy – The Influencers  
In his opening keynote, behavioral scientist, author, and adventurer Jon Levy shared how he has spent more than a decade exploring the key factors that contribute to doing what it takes to accomplish what is most important. He explored the groundwork for changing the frame of how one thinks about doing the things that most matter, both for individual and organizational success. Levy outlined his "You're Invited" approach to meaningful engagement with influencers. He asserted that the more influence you have the greater good you can do. And to build that influence, Levy said organizations and individuals need to consider how to make a connection with those you are trying to reach, build trust, and establish a sense of community. Finally, one must create a path by creating a sense of belonging (membership), interacting with people (engagement), and consider how people learn about the opportunity (discovery).  
 View session highlights here. 
View session handout here. 
Reach out to Jon Levy directly with questions at: [email protected]  
Fireside Chat with the NHC's New Chief Executive Officer 
National Health Council Board Chair Diana Gray moderated a discussion with new NHC CEO Randy Rutta on the future of NHC and the value members can expect now and in the future. Rutta is ready to go and sees the NHC as the organization to inspire the transformation of health care. He is excited to leverage the NHC's powerful legacy – 100 years – and strong record of putting patients first. He is excited that the NHC membership is embracing strategies for equity and believes the patient community's presence will be game changing. Rutta also shared that the three words his best friend would use to describe him are passionate, optimistic, collaborative. Welcome Randy! 
Gaze into the Crystal Ball: What Can We Expect from a New Administration and Congress? 
Kelly Brantley – Avalere Health  
Kelly Brantley, an HLC regular, shared her best thinking on what could be in store for health care policy during the Biden Administration and under a Democrat-controlled Congress. She admitted her crystal ball was broken at last year's meeting (but we can't fault her for that). Brantley anticipates that with the Biden Administration, a 50-50 split in the Senate, and a small Democratic majority in the House, most legislation will need to be bipartisan and that there will be limited action legislatively. Brantley said some issues to watch in 2021 include: 
A

ddressing 

d

rug 

p

rices

 

L

everaging 

d

rug 

p

ricing 

p

olicies as 

p

otential 

p

ay-

f

ors

 

S

trengthening the ACA and 

c

overage 

p

rotections

 

U

nderstanding 

s

hifting 

i

nsurance 

c

overage 

d

ue to COVID-19

 

A

ddressing 

h

ealth 

c

are 

d

isparities

 

R

ethinking the U.S. 

p

ublic 

h

ealth 

r

esponse

 

A

ssuring 

a

ccess to COVID-19 

v

accines and 

t

reatments

 

B

alancing 

s

tate 

b

udgets 

s

trained by COVI

D

-19 & 

the potential economic c

onsequences

 

Improving access to care after 

a 

year of delayed/deferred treatment

 

R

ecognizing the FDA's evolving role in the COVID-19 response. 

 
View the session here. 
View slides here. 
Lunch with our Sponsors 
Attendees enjoyed networking sessions over lunch with Conference sponsors Kelly Cox, Senior Director, Global Alliance Development at Johnson & Johnson; Marie France Tschudin, Global President of Novartis Pharma; and Mary Bordoni, Director, Strategic Alliance Development, and Cathy Trzaskawka, Executive Director, Patient Advocacy at Bristol Myers Squibb. The lunch sessions were a fun, informal, way to connect and foster engagement between attendees and Conference sponsors.   
Emerging from 2020 – The Future of Philanthropy 
Stacy Palmer, Editor – The Chronicle of Philanthropy  
Reactor panel: 
Michael Osso

, President and CEO, Crohn's & Colitis Foundation

 

Amit Paley

, CEO and Executive Director, The Trevor Project

 
As the editor of the Chronicle of Philanthropy, Stacy Palmer has her finger on the pulse of the nonprofit community. During her presentation she shared insights and data regarding the philanthropic sector and provided a look forward by engaging with a reactor panel of NHC member-organization CEOs. Palmer noted the biggest trend they are observing is that organizations view the current environment as an opportunity to reset things that weren't working before the multiple crises of 2020. Nonprofit organizations are rethinking the scope and relevancy of their mission; how they do their work; how they can better partner with government and other agencies to deliver services; how they are funded, including advocating for charitable deduction incentives; and how to approach racial equity issues with employees, their Boards, leadership, and communities.  
Both Michael Osso and Amit Paley provided their perspectives on the impact of the events of 2020 on their respective organizations, ranging from how revenue streams changed; an increase in the demand for their services; the generosity of the individual, small- to mid-sized donors; the intersection of COVID-19 and equity; how organizations pivoted to rise to the challenges; and their optimism for the future. 
View the session here. 
Virtual Networking Reception 
The NHC staff and Board members hosted small networking groups on topics including: the governance role of NHC members, health equity, health advocacy and the new Administration, patient-centered programs and research at the NHC, and communications opportunities and challenges. 
Day 2
Board Members: The Power of Curiosity to Enrich Your Leadership Impact 
Lynn Borton, Host, Choose to Be Curious  
Lynn Borton combined the best of science, organizational learning, and leadership development to inspire attendees on how their board service can provide the greatest value. Borton asserted that curiosity has the power to transform people and organizations and can be used as a management and governance tool. Borton shared three simple rules on curiosity: 
If you change your point of view, you will see something new.

 

Assume you 

don't

 know what you don't know.

 

Seek first to understand, then to be understood.

 
Borton also shared four curiosity pro tips: 
Ask questions out of care.

 

Go in with the intention of being changed by what you hear.

 

Ask: "What are all the ways we could…?"

 

See the mighty oak in the acorn. 

 
And a BONUS tip: W.A.I.T. – Why Am I Talking? Don't just talk to talk or because you are in charge. If others aren't talking, you should think how you can make it safe for others to start talking – and contributing to the goals you seek to accomplish.  
View the session here. 
View resources from the session here.  
CEOs: The Future Office – Assessing Your Commercial Real Estate Needs 
Mark 

Wooters

, Managing Director, Cushman 

& 

Wakefield 

 

Antonia Cardone

, Senior Managing Director, Americas Total Workplace Leader, Cushman & Wakefield

 

Aaron Pomerantz

,

 

Executive Managing Director, Cushman & Wakefield

 
Reactor panel: 
Tim Phillips

, Chief Legal 

and

 Risk Officer, American Cancer Society

 

Laura Thrall

, 

President 

and 

CEO

, Epilepsy Foundation

 

Kenneth 

Mendez

, 

Chief Executive Officer and President, Asthma and Allergy Foundation

 of America

 
The COVID-19 pandemic has stimulated a re-evaluation of the where and the how of work across the globe. Leaders across all sectors are assessing the real-estate landscape to realize immediate efficiencies and opportunities while trying to make decisions about the short- and long-term future of both the workforce and the workplace. This expert panel from Cushman Wakefield offered insights on the big picture and strategies that can be applied in the near and long term to benefit employers. Cardone shared data about the workplace experience across the US and offered predictions on what workplace trends could emerge in the next few years. Wooters and Pomerantz recommended that organizations need to know the terms of their leases including expiration date, term options, termination rights, landlord's situation and leverage, force majeure, and the market. The reactor panel outlined several concerns including accelerating a planned downsize in real estate footprint for the organization; the need for negotiations to be a two-way street between landlords and nonprofits; and how to keep employees safe while enhancing the culture of the organization. 
View the session here.  
View slides here. View additional information here.  
Reach out to Mark Wooters directly at: mark.wooters@cushwake.com 
Putting Theory 
i
nto Practice 
Jon Levy – The Influencers  
Day One keynote speaker, Jon Levy, led participants though an interactive coaching session using live examples from two CEO attendees, Dr. Lisa Simpson, President and Chief Executive Officer of AcademyHealth, and Daniel Gillison, Chief Executive Officer, NAMI (the National Alliance on Mental Illness) to illustrate how to apply the key factors for accomplishing what matters most to your organization. Participants engaged with each other during small group sessions aimed at making this new knowledge stick.  
View highlights of the session here.  
Lunch with our Sponsors 
Attendees enjoyed networking sessions over lunch with Conference sponsors Kelly Cox, Senior Director, Global Alliance Development at Johnson & Johnson; Marie France Tschudin, Global President of Novartis Pharma; and David W. Boyer, Chief Corporate Affairs Officer at Neuocrine. The lunch sessions were a fun, informal, way to connect and foster engagement between attendees and Conference sponsors. 
The Road Ahead 
Sandro Galea, MD, DrPH, Dean, Robert A Knox Professor, School of Public Health, Boston University  
Dr. Sandro Galea, an epidemiologist and public health leader, spoke to his fascinating work on COVID-19, and the "two pandemics" of physical and mental health, and his pioneering work that demands a more equitable health system to address the whole health of individuals. Dr. Galea connected his work to the lives of people living with chronic conditions and the long-term health impacts of the pandemic. He urged attendees to completely rethink how we consider health in the face of COVID-19. He advocated that to promote health, we need to invest in socioeconomic factors, the physical environment and health behaviors, in addition to health care. Currently, the U.S. spends more and the population overall, gets less. Dr. Galea also said that the COVID-19 shutdown further increased the income and health gap between racial populations, resulting in the deepening of divides that were there already. He asserted that we are not ready for the next pandemic, because we don't have social structures in place to promote health and treat all people equitably. He recommended that patient groups be a voice for the totality of health, and that it will require state and federal actions to address these disparities.  
 View the session here. 
 View slides here.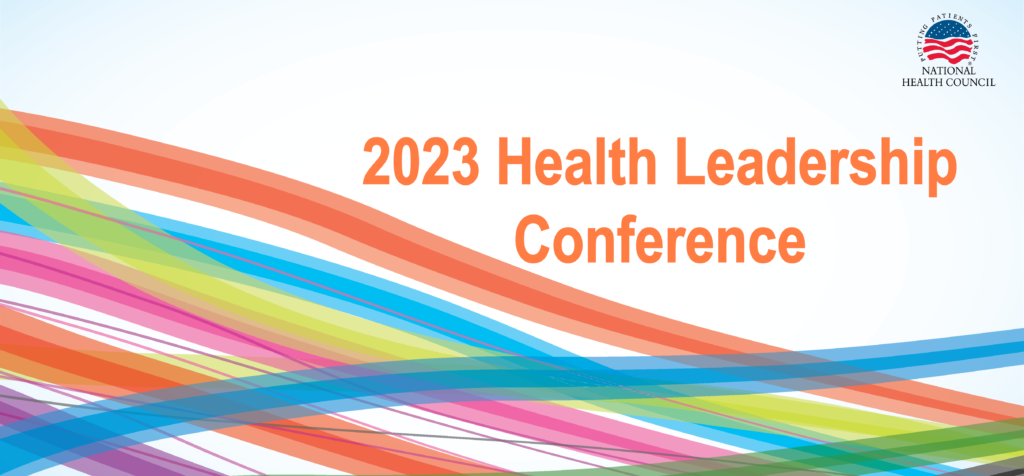 02/07/2023, Coral Gables, FL
Read More