2020 Health Leadership Conference
Event Date: Feb. 14, 2020

Event Location:

Sponsorship: Premier: BIO, Eli Lilly, Johnson & Johnson, Mallinckrodt, Novartis, Pfizer Leading: Amgen, Merck, PhRMA, Sanofi
The 2020 National Health Council (NHC) Health Leadership Conference (HLC) was a success, with 104 attendees from 52 organizations coming together to mark 100 years of Putting Patients First and look toward the future. The NHC would like to thank the following companies and organizations for sponsoring the 2020 Health Leadership Conference. Premier Sponsors were: BIO, Eli Lilly and Company, Johnson & Johnson, Mallinckrodt, Novartis, and Pfizer. Leading Sponsors were: Amgen, Merck, PhRMA, and Sanofi. The Association for Accessible Medicines sponsored the conference breakfast.
Opening Night Reception
The conference kicked off by celebrating the 100th Anniversary of the NHC with a Roaring 20s-themed reception. Attendees mixed and mingled with flappers and gangsters while snacking on hors d'oeurves and networking with colleagues. Gatsby-themed prizes were awarded for the top three costumes worn by Paul Gionfriddo from Mental Health America, Melissa Rowley of the Caregiver Action Network, and Catherine Jackson from Mallinckrodt Pharmaceuticals.
Opening Keynote: Stuart Ellis-Myers aka "Twitchy"
The opening keynote address enlivened and inspired the HLC attendees. Stuart Ellis-Myers, who is best described as Robin Williams with an inspirational twitch, took attendees on a deep dive into what it is like to spend 50 years living with anxiety, depression and bipolar while uncontrollably twitching over 30 million times due to Tourette Syndrome. Ellis-Myers, also known as "Twitchy," encouraged attendees to find the brilliance inside themselves and commit to "over-wow" one person each day through random acts of kindness.
Speaker: Marc Boutin, JD, Chief Executive Officer, National Health Council
The next speaker, NHC Chief Executive Officer Marc Boutin, encouraged attendees to challenge the current culture of health by considering what health care could look like if we focused on personalizing health. Personalized Health is a concept recognizing that wellness lies at the intersection of the determinants of health and people's desired outcomes. It leverages data and technology to optimize outcomes and reduce costs. Presentation
Speaker: Kelly Brantley, Practice Director, Avalere Health
Always popular with HLC attendees, Kelly Brantley, Practice Director from Avalere Health, returned to provide her in-depth analysis of the current state of health policy during Vision 2020: Chaos or Calm? Brantley covered topics ranging from the impact of unmet social needs, how to pay for innovation through innovative health care financing, and how to define "value" in outcomes-based arrangements. Brantley also asserted that affordability and transparency will continue to drive the health care conversation during 2020 election cycle. Presentation
Panel: How Not to be Lonely at the Top
Moderator: Nancy Berg, CEO & Executive Director, ISPOR; Panelists: Nancy Brown, CEO, American Heart Association (AHA); Steve Gibson, President & CEO, Lupus Foundation of America (LFA); Cyndi Zagieboylo, President & CEO, National Multiple Sclerosis Society (NMSS); and Marc Boutin, JD, CEO, National Health Council
Each of the panelists shared their insights on what it's like to lead an organization and what they do to keep good people around them to support their organization's mission. Cyndi Zagieboylo from NMSS urged patient group leaders to surround themselves with people who are "humble, hungry, and smart." Marc Boutin of the NHC encouraged open and honest conversations with senior team members to build and drive the culture of the organization. Nancy Brown of AHA said leaders must be aware that their employees will value different things based on generational preferences and that each must see the organization as "theirs." Steve Gibson from LFA stressed that flexibility is key and persuaded leaders to listen to colleagues who don't necessarily work "traditional" hours and the importance of every single employee seeing themselves as a part of the team. A theme common to all panelists – ensuring everyone at the organization believes in and works toward a common mission is critical to building a successful team and organization.
Speaker: Eric Peacock, CEO and Co-Founder, MyHealth Teams
Eric Peacock, CEO and Co-Founder of MyHealth Teams, delivered his passionate message about empowering people facing chronic health conditions. Peacock believes it should be easy for people with chronic conditions to connect and learn from others with the same condition via online communities. He advocates for making it easy to find the people, support, and information relative to managing one's chronic condition. For example, in his work, he found that one of the most important things that people with chronic conditions share with each other online are "life hacks" – or ways to manage their condition and live their lives. Presentation
Panel: Storybranding Your Organization into the Future
Panelists: Steve Taylor, CEO, Sjögren's Foundation; Janet Church, Board Chair, Sjögren's Foundation; and Cindy Atlee, Founder, The Storybranding Group
In 2019, the Sjögren's Foundation embarked upon a process to evaluate its brand identity. Through a process called Storybranding, they developed a new brand, including a new mission, new vision, and a new logo/look for the organization. Steve Taylor and Janet Church, the CEO and Board Chair of the Sjögren's Foundation respectively, shared the organization's Storybranding journey, which enabled them to take a deep look at themselves as an organization and building a brand around a one of 12 Storybranding characters that describes the organization at its best. After the presentation, attendees were split up into two breakout sessions, during which they put the Storybranding process into practice for their own organizations. Presentation
Panel: Social Fundraising: Boon or Bust?
Moderator: Katrina Van Huss, Turnkey; Panelists: Bob Gebbia, American Foundation for Suicide Prevention; and Ann Palmer, Arthritis Foundation
This panel explored the phenomenon of fundraising online via social media channels like Facebook and websites such as GoFundMe by answering the questions, "What does this mean for nonprofit organizations, and what impacts will it have on overall fundraising efforts?" Panel moderator Katrina Van Huss set the stage by providing an overview of the current use of social and web platforms to fundraise, and Bob Gebbia and Ann Palmer shared their organizations' experiences. Palmer urged caution at the beginning and suggested organizations perform a risk/benefit analysis to determine if social-based fundraising is right for them. Both Palmer and Gebbia agreed that advertising on social platforms is a good use of funds, but organizations should ensure that they are getting a good return on investment and that they are reaching their target demographic. Palmer suggested Facebook is a good platform for peer-to-peer fundraising, and Gebbia encouraged organizations to develop social and fundraising strategies that work together as a team effort. Both Palmer and Gebbia agreed that social fundraising is here to stay.
Speaker: Heidi Dohse, Senior Program Manager, Healthcare and Life Sciences, Google Cloud
Heidi Dohse, an elite athlete and heart disease patient, has competed in endurance events such as century bike rides – and longer – and an Iron Man Triathlon – all while a pacemaker has kept her heart beating. Dohse shared her patient journey on how she used data related to her heart condition to live her life, set audacious goals, and keep her doctors in the loop. She has married her passion for data and physical fitness to bridge the gap from health care to self-care in an effort accelerate delivery of both self-care and health care solutions. Presentation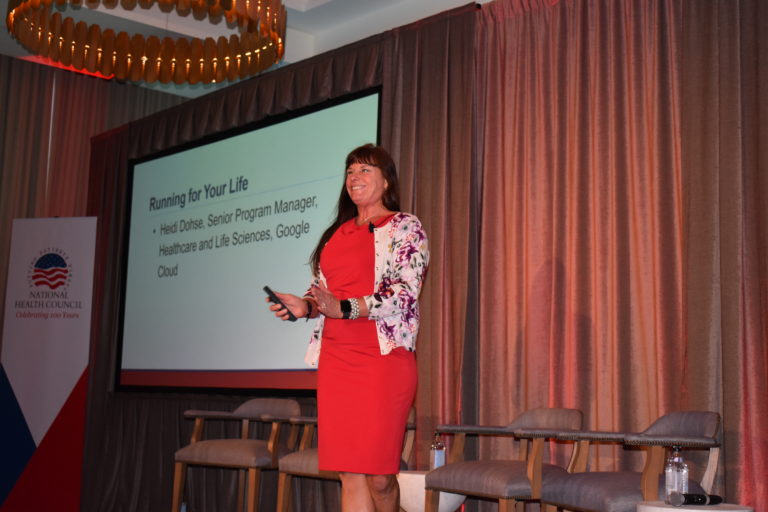 Keynote: Margaret Anderson, Managing Director, Deloitte Consulting LLP
In her morning keynote address, "From the Flintstones to the Jetsons: The Future of Health," Margaret Anderson of Deloitte Consulting encouraged patient advocacy group leaders to take their patient stories and perspectives to the health care innovators and disruptors. Anderson discussed shifting care delivery models, with an empowered consumer at the center of the future of health. She challenged attendees to consider their future patient populations and engage them as "partners in disruption."
Panel: Maximize your Board. Maximize your Mission.
Moderator: Diana Gray, President & CEO, Hydrocephalus Association; Panelists: LaVarne Burton, President and CEO, and Jerry D. Klepner, Board Chair, American Kidney Fund; and Harry Johns, President & CEO and Dave Goltermann, Board Chair, Alzheimer's Association
This panel explored the best practices in maximizing a patient group's Board and mission. LaVarne Burton and Jerry Klepner from the American Kidney Fund discussed how staff and Board worked together to address a serious legal challenge that put people on dialysis at risk of losing their health care coverage. Harry Johns and Dave Goltermann explored changes for the Alzheimer's Association as it went from a federated organization to a single corporate entity. Burton and Klepner stressed the importance of identifying prospective Board members, which the AKF does through a panel of current Board members. Johns and Goltermann explained that the Alzheimer's Association deliberately reduced the size of its Board to better engage Board members. All four panelists emphasized the value of a strong relationship between the organization's CEO and the Board Chair, including open lines of both formal and informal communications. Johns and Goltermann stated that the Alzheimer's Board is always asking the question – is this mission-driven? Burton and Klepner recommended open and honest communication between staff and the Board to keep the organization mission focused. All panelists stressed the importance of diversifying their boards by encouraging service by individuals with various areas of expertise, ages, races, ethnicity, and geographic regions.
Speaker: Jared Weiner, EVP and Chief Strategy Officer, The Future Hunters
Jared Weiner from The Future Hunters took attendees "To Infinity and Health!" through his look at what the future may hold for the health care ecosystem. Weiner suggested as a society we have an "educated incapacity" to see the future because we know so much. He also encouraged nonprofits to think more like businesses when considering innovations of the future. Presentation We kindly ask that attendees who download Weiner's presentation do not share it.
Closing Keynote: David Wasserman, U.S. House Editor, The Cook Political Report
To close out the conference, David Wasserman of The Cook Political Report provided a humorous look at the current state of politics in the United States – from the Democratic race for the Presidential nomination, to the competitive House and Senate races that could shape the face of the next Congress and the health care policy landscape.
Save the Date: 2021 Health Leadership Conference February 10 – 12, 2021